Coding is the language of the future. Become literate with the help of the Athena Digital Design Academy, which champions and inspire Barnard women on their journey into coding literacy through web development. 
Graduates of the Academy can apply to the Athena Digital Design Agency, which connects local businesses and organizations with students to help build or maintain their web sites.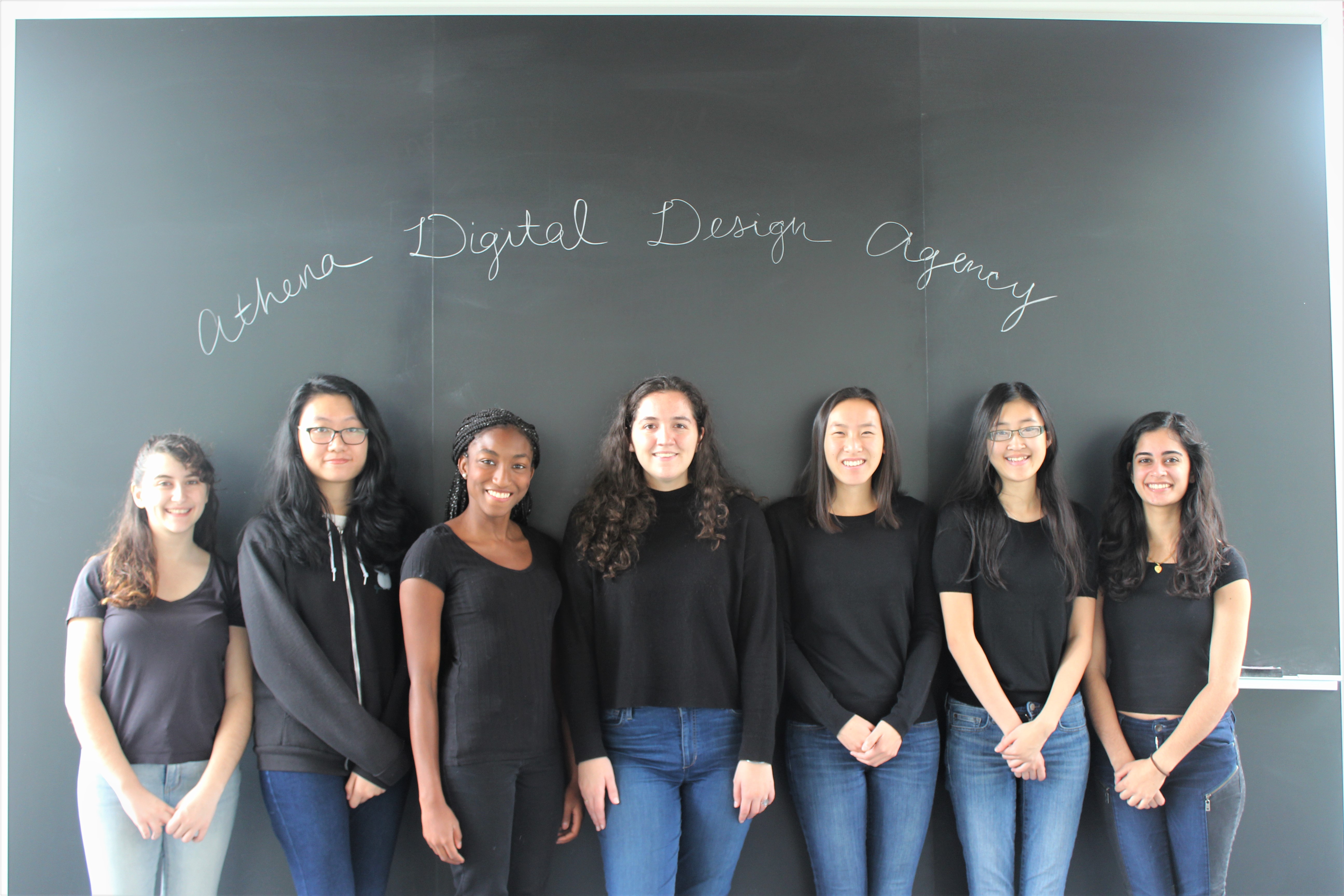 No coding experience or computer science background is required for participation and applications are open to all Barnard students.
We will not offer ADDA courses during the 2020-21 academic year. However, the ADDA team is looking forward to hosting some conversations and events. Keep an eye on this space for more information!
Wednesday, October 14, 2020 at 8PM EST. Join us for our FREE workshop on user experience (UX) Design! We'll be working in Figma and practicing on real e-commerce websites! No prior knowledge required. RSVP at bit.ly/ADDA-Design
Monday, November 16, 2020 at 7PM EST. Join the Athena Digital Design Agency for an Intro to HTML/CSS workshop taught by Barnard alum, Arlena McClenton ('19). Come learn new skills or brush up on your html/css skills. No prior experience is necessary. RSVP at bit.ly/adda-coding
Follow ADDA on
Email info@athenadigitaldesign.org for more information.
Ever wondered what it's like to run a startup?
Become part of the ADDA Student Advisory Board which has various positions such as marketing, finance, project management or get more involved as a member of the ADDA C-Suite.
Zakiya Lakha '21, Chief Executive Officer
---
I'm Zakiya Lakha, a senior and the Chief Executive Officer for ADDA. I'm majoring in religion, but I first took the HTML/CSS class to broaden my skills, and after I learned about all the work ADDA does, I joined SAB! ADDA has helped me develop skills that I may have never been exposed to if I hadn't joined. The ADDA environment is always a supportive and encouraging one, and we always welcome more people to join and be a part of ADDA!
Jessica Moreira '22, Chief of Finance
---
I am Jessica Moreira' 22 and I am the Chief of Finance for ADDA. At Barnard, I am majoring in Economics and minoring in Education. I took the HTML/CSS class in the Fall 2019 semester and after gaining these cool coding skills, I decided that I wanted to join SAB as I was impressed by the work that ADDA does. I have been able to grow both professionally and personally at ADDA and I recommend it if you are looking for a place to challenge yourself, learn and flourish!
Syeda Anjum '21, Chief of Agency
---
My name is Syeda Anjum '21 and I am the Chief of Agency for ADDA. Double majoring in film studies and psychology has taught me the interdisciplinary nature of technology in all fields, and this inspired me to further engage with the ADDA community. ADDA gave me the confidence to explore visual design with code, and I hope to encourage other women on this path of empowerment.
Cindy Espinosa '22, Chief of Academy
---
I am Cindy Espinosa '22 and Chief of Academy for ADDA. I'm studying Computer Science. I was unsure if I wanted to pursue tech because I didn't see anybody like me in this field, but ADDA solidified my skills and gave me the confidence to continue on this career path wherever it takes me.
Mae Viccica '21, Chief of Marketing
---
My name is Mae Viccica '21 and I am the Head of Marketing for ADDA. I'm majoring in Political Science and joined the Student Advisory Board after taking the HTML/CSS class because I wanted to get more involved. I love the supportive environment that ADDA provides and hope that more students feel inspired to join us! ADDA helped me grow my skills in an area I had never been exposed to before, and I am proud to support our mission.
Jasmin Butler '22, Chief of Admissions
---
My name is Jasmin, and I'm Chief of Admissions at ADDA. I'm in the class of 2022, majoring in Political Science and minoring in Sociology. Prior to becoming a Student Advisory Board member, I joined the Agency as a developer after taking the HTML/CSS class. I love that ADDA provides a welcoming and empowering space for women to learn coding skills and get experience in the field of web development. I think learning how to code is really useful, and I would encourage all Barnard students to take our classes!
Anel Abdykarimova '23
---
Hello everyone! My name is Anel Abdykarimova and I am a sophomore at Barnard. My intended major is Computer Science along with minors in Economics and Psychology. I joined the ADDA SAB family after being inspired by HTML/CSS and JavaScript courses I took my first year. Coding is so much fun and I hope we will be able to interest you in this field too!
Eugenia Baek '23
---
I'm Eugenia Baek '23 and I am very excited to be a part of ADDA's SAB family and a TA for the HTML/CSS class! I am an aspiring Computer Science major and have been inspired by the amazing and successful board members to pursue CS despite my initial hesitations and doubts. Moreover, taking my first HTML/CSS class through ADDA has allowed me to gain confidence in my abilities and has excited me to learn more about web development.
Upon completion of one Academy course, students can become web developers through the ADDA Agency and get paid!
OPEN POSITIONS
Student Advisory Board: https://tinyurl.com/FA20SAB

Help run a startup! Learn project management!

Developer on Agency (PAID): https://tinyurl.com/FA20DEV

Create websites for real clients! Build your portfolio!

Deadline: September 30th, 2020 @ 11:59PM
Email info@athenadigitaldesign.org for more information.
We will not offer ADDA courses Academic Year 2020-21
HTML/CSS Course
This class is perfect for students who would like to learn the basics of web development! Learning HTML/CSS is the foundation for learning other programming languages like JavaScript that will help enhance the appearance and function of your website or application! Students will successfully complete several websites by the completion of this course. NO CODING EXPERIENCE or computer science background will be required for enrollment. Applications open only to Barnard students.
WHAT is HTML/CSS? HTML and CSS serve as the front end of every webpage and application - they're what everyday users interact with! HTML is the core of every page and app - it will help you generate the desired structure of your app or webpage! CSS spices it up with colors, different layouts, and many other visual modifications!
JavaScript Course
This class is for students to learn to develop their own interactive games and web applications. This class is recommended for students who have already taken the ADDA HTML/CSS course, or have equivalent coding experience. Python and other functional programming languages are not required, and will not be taught.
WHAT is JavaScript? JavaScript is a programming language used on the web to manipulate HTML and CSS. This means you can create interactive sites with animations or games and so much more. Most of the sites you use every day (Facebook! Twitter!) are built entirely with JavaScript or rely on it heavily. JavaScript is a great skill to have if you'd like to build more functional sites in the future, or if you're interested in pursuing programming or computer science further.