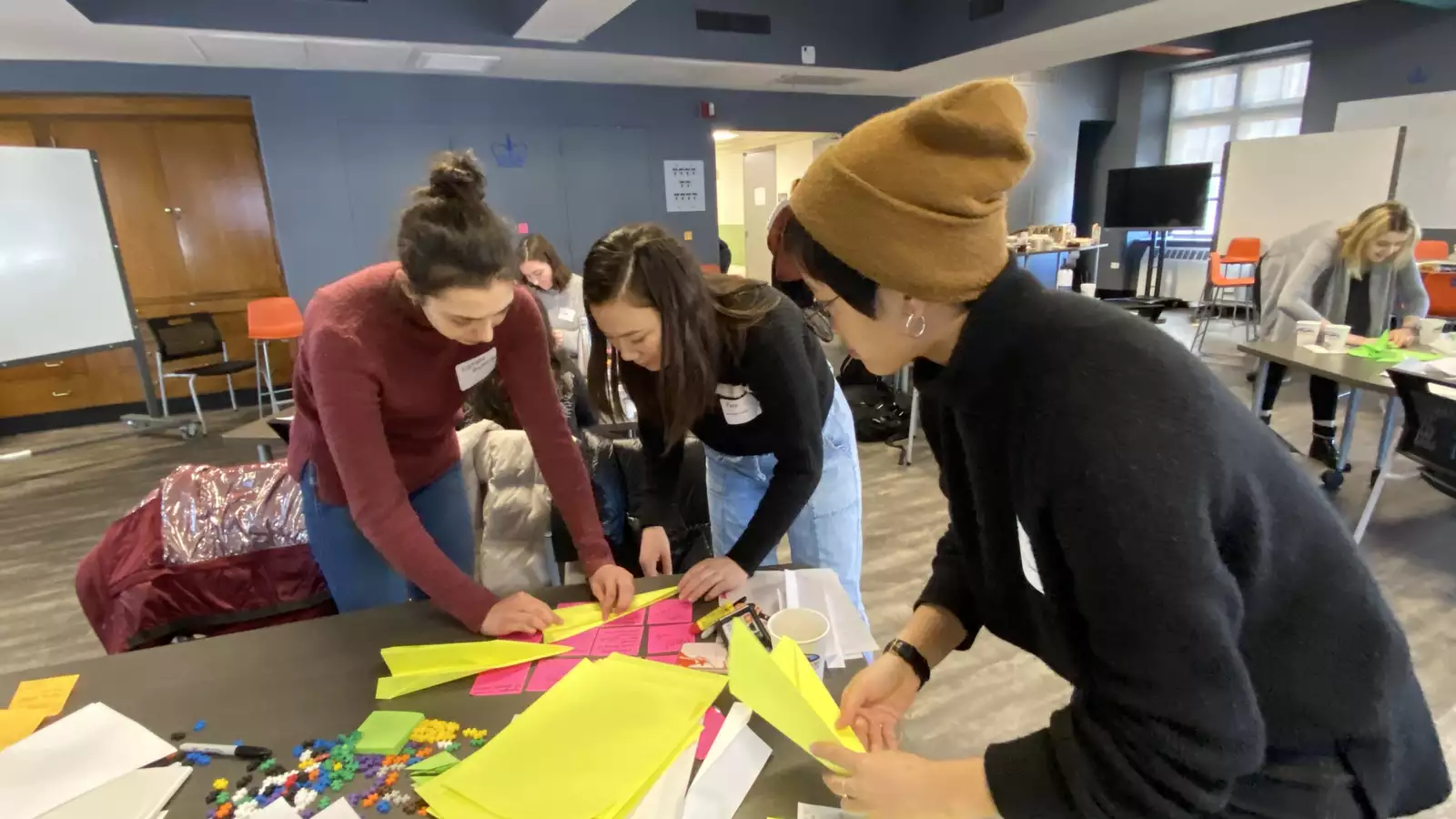 A Spring 2020 community of practice.
At the Athena Center for Leadership, we dream of a better future and we build it, in community, by taking on the intractable challenges of the present. 
Ready to get started? 
Join a community of practice at Athena. Communities of practice are groups of people who meet regularly to get better at something — here, changemaking. 
Athena offers multiple communities of practice — all made up of Barnard students, all supported by expert facilitators, all small and close-knit, all providing stipends for participants:
This community of practice meets during the school year. Fellows commit their full Fridays (part training, part workshop time) for a semester, enter with a challenge in mind, and receive a stipend. They receive dedicated coaching and mentorship, as well as a stipend, and access to a small, multidisciplinary cohort of Barnard women committed to changing the world
Athena Summer Institutes
These communities of practice meet for 10 weeks over the summer, during students' summer internships, and focus on a *method* of changemaking. Participants receive weekly programming and a stipend.
The Williams Program for Women in Politics is funded by Constance Hess Williams '66.
The Athena Advocacy Institute is funded by the Francene Rodgers '67 Athena Fellowship Fund, the Marina Weitzner Lewin '80 Internship Fund, the Carol Krongold Silberstein '69 and Alan Silberstein Public Service and Internship Fund, and The Daphne Fodor Philipson '69 Fund for Women's Leadership.
Frequently Asked Questions about Communities of Practice
A few key things. First, communities of practice are not credit-bearing — which mean they're not graded. They're a safe and brave space for you to practice getting better at something, alongside others who share that interest. At Athena, that's changemaking.
Second, communities of practice are a space — which means that the work you do in them is self-directed, though you'll receive plenty of guidance from our expert facilitators. Think of it as being handed a few ingredients rather than a recipe. What will you add? What will you make?
Each community of practice has its own application process. Click on the links above to learn more.
Yes, yes, and yes! Just be sure to read about the expectations for each one.
A commitment. Athena Fellows commit every Friday for a semester, members of the Athena Summer Institutes (the Williams Program for Women in Politics, the Athena Advocacy Institute) commit 10 weeks of their summer to their internship or startup, alongside weekly gatherings with each other.
An openness to collaboration. The change we need won't come from a single approach or a single person, but at Athena, we don't force you to do group projects. We do create the conditions for collaborations to emerge and flourish.