Notes from the Field: A Visit to VEGANHOOD
Image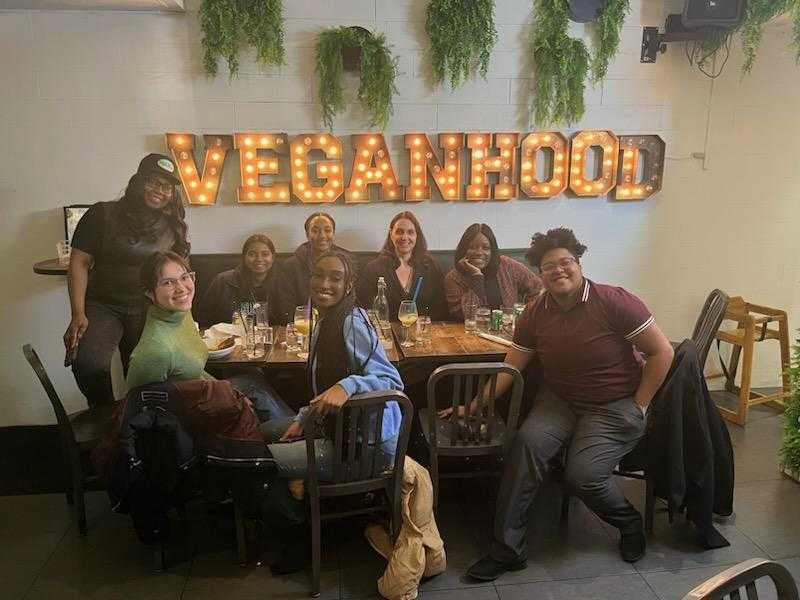 March, 2023
As part of our Athena Entrepreneurs community of practice, Athena and Barnard CEI hosted a field trip to local Harlem restaurant VEGANHOOD. There, staff and students got to eat dinner and chat with VEGANHOOD's co-founders. 
Keep reading to see what our Entrepreneurship Student Lead Diarra Seck '23 had to say about the experience!
---
In February, Athena Entrepreneurs and Barnard CEI hosted a field trip to one of Harlem's newest restaurants, VEGANHOOD, located a brief walk from campus. We got to have dinner and speak to the founders of VEGANHOOD, sisters Lanise Herman-Thomas and Janine Smalls, whose mission is to bridge healthy vegan cuisine with soul food. In other words, "soul food with a vegan spin"!
When we got to the restaurant, the aura was cheerful, as the hosts played afrobeat, r&b, and pop music. The decorations were colorful, and the graffiti paint on the sides of the bar added a Harlem twist to the vibrant space. Partway through our visit, Lanise and Janine sat down with us to share their inspiring story.
Lanise and Janine didn't start off in the restaurant business, but their dreams of entrepreneurship spawned long before VEGANHOOD became a vision. The sisters have long run a non-profit organization called the Young Excellence Society, which helps kids with after-school programs and resources to thrive educationally. However, once COVID struck, Lanise and Janine needed a way to raise money for the organization to stay afloat. To do so, they started selling organic teas and sea moss to promote good health. In 5 months, Lanise and Janine made 6 figures for the Young Excellence Society! This wasn't the first time they leaned into their entrepreneurial spirit - both sisters had started ventures with other people before. However, they ultimately decided that working with each other was the best route, crediting their success together to the value of compatibility and skillset sharing.
The VEGANHOOD sisters took their partnership a step further and went full throttle in the food health industry. In light of their vegan background, Lanise and Janine incorporated dishes that they already cook at home. At first, they turned their NYC apartment into a commercial kitchen, partnering with Grubhub and other third-party vendors to build their clientele. But by the summer of 2020, Lanise and Janine were consistently sold out, with customers parked outside their apartment, enjoying vegan meals on the sisters' front porch. The NYC kitchen was no longer sustainable. One thing was clear— it was time to make VEGANHOOD official. 
Thus, the VEGANHOOD sisters began looking for spaces to open up a restaurant. They announced on social media that they would be relocating their business, and even leveraged customers by crowdfunding investments. Lanise and Janine ended up surpassing their initial goal, making over $75,000 to launch their restaurant. The Co-Founders also managed to decorate the space without the help of big companies, who were asking for over $20,000 to make their dreams come true. Instead, they hired local small business owners and artists. By optimizing the community's interest, finding a place that already came with all the necessary installments, and hiring POC artists to help decorate, the sisters showed how resilience and strong problem-solving skills were key to building their business. 
VEGANHOOD, as we know it today, is comprised of vegan meals that represent the very neighborhoods that shaped the owners' experiences growing up. Lanise and Janine have a "veganize not compromise" mentality. They believe vegan meals can be delicious and soulful, while also keeping the black community that raised them in mind. Core dishes are named after places in NYC, like the Boogy Down Burger, Harlemworld, and Flatbush Oxtails. Through their journey, Lanise and Janine model for us how one starts a business with passion and agency, having successfully brought vegan to the hood!
Learn more about VEGANHOOD at their website, Instagram, or Facebook. And don't forget to follow Athena for more hands-on (or hands filled) opportunities to grow as an entrepreneur!