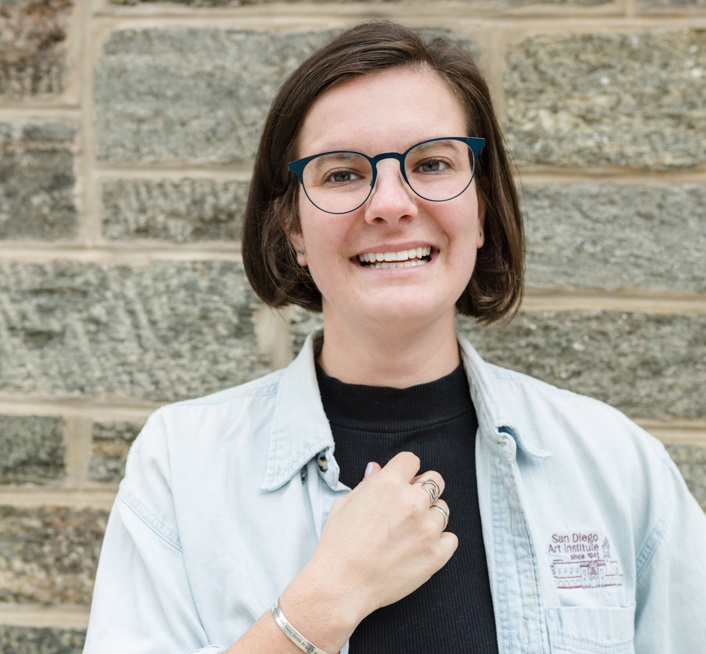 During her first two years at Barnard, Kory Louko '17 studied neuroscience. But after two summers in a neuroscience lab and a writing class she took to "switch gears," Louko discovered her passion for storytelling, comedy, and film — and left neuroscience behind.

After attending a panel featuring director Paul Feig and actress Kate McKinnon at the Athena Film Festival in 2016, Louko chose to focus on film and applied to be a Post-Baccalaureate Fellow for the Athena Film Festival; she's now on the Programming and Operations team.

The Athena Center's Post-Baccalaureate Fellowship Program affords recent Barnard graduates like Louko the opportunity to gain real-world experience in organizing the Athena Film Festival. The fellowship is a full-time position that lasts for at least a year and provides a $45,000 stipend. Fellows immerse themselves in learning creative writing, marketing, and digital technology while enhancing their communication, research, and leadership skills.

"Film sets are such creative places, not just because of the storytelling but because of how people make it happen," said Louko, who noted that working in operations at the festival has helped develop her creativity and problem-solving skills. "I have been able to dive deeper into my work because of the fellowship," she added, crediting the Athena Center's operations manager, Kristin Molloy, for making a positive impact on her experience in the program. 
Staff at the Athena Center feel Louko's positive impact on them, too. "We wouldn't be able to pull off our ambitious plans for the 10th anniversary of the Athena Film Festival without Kory," says director of the Athena Center Umbreen Bhatti '00. "I couldn't be happier to have her here, with her thoughtfulness, sense of humor, and experience. Giving a Barnard alum who cares deeply about film the opportunity to live and grow through this fellowship has been amazing."
After completing the fellowship, Louko hopes to continue working on film projects, including her short film Man vs. Vibrator, which explores female pleasure and toxic masculinity. In addition, she's interested in becoming a writer's assistant here in New York City. 
Looking ahead to next week's celebration of the Athena Film Festival's 10-year anniversary, Louko is able to reflect on her time as a Post-Baccalaureate Fellow with pride. She says the festival is unique — unlike other film events. "It thinks of its context and purpose in the world and was founded as a way to celebrate women whose stories were ignored," Louko comments. "[The festival] is deeply aware of the effect art has on culture and how for many artists there is not a difference between being an artist and an activist."
At this year's festival, Feb. 27-March 1, Louko recommends audiences see Antigone, a modern adaptation of the Greek tragedy, and Queering the Script, a documentary on LGBTQ representation in television. Other films she mentioned include the drama Clemency, the biographical film Sister Aimee, and the Oscar-nominated Little Women, directed by fellow Barnard alum Greta Gerwig '06. 
Additionally, Louko said the panels are a must-see for all attendees. "[The festival] constructs thoughtful post-screening conversations that go deeper into the issues of the films and talk about why these films and stories are important."
— STEFANI SHOREIBAH '21
Watch a video on the Post Baccalaureate Fellowships experience at Barnard College below: