CORE10© and Leadership Development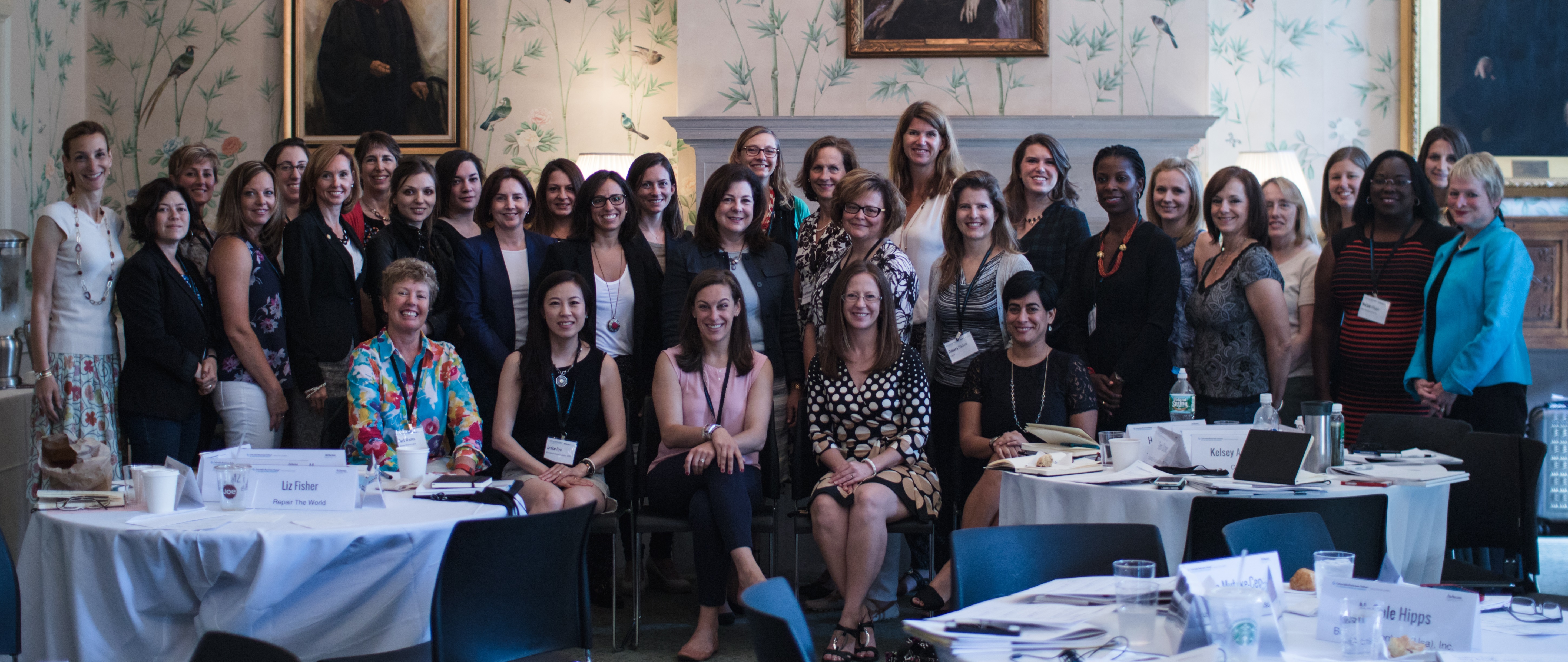 One core pillar of Athena's work is dedicated to developing high-impact capacity-building and leadership development trainings for women.
The format of these training programs can vary from a quarterly series of 1 ½ - 2-hour workshops and activities designed to deepen and expand leadership skills and strategies to a full-day, in-depth, off-site conference.
The Athena Center assembles a unique team of instructors, facilitators, and facilities that are appropriate for the format and content of your program.  We draw from Athena Center staff and 50+ educators, coaches, and consultants who are experts in their respective fields. Moreover, we interact and engage with a wide number of senior executive leaders, thought-leaders, award-winning authors, and top researchers as speakers and advisers.
As a part of Barnard College, the Center is supported by the resources and infrastructure of the College, including its idyllic four-acre campus in New York City, administrative staffing, and food services, making the campus an excellent location to hold your next leadership development program. 
The trainings and workshops delivered by the Athena Center team are based on The Athena CORE10©.
The Athena CORE10© is a fresh look at the attributes that today's female leaders need to achieve, maintain, and maximize their impact. Based on Barnard's 125-year history of promoting women's leadership, the Athena Center has identified ten attributes that all bold leaders should deploy with skill and confidence.
CORE10
Athena's definition of ambition has three components: the pursuit of success, recognition of one's own expertise, and the ability to project power. Traditionally, women who are assertive in the workplace are penalized for being seen as angry and uncompromising; thus, they are less likely to demonstrate their expertise in key public forums. Today's ambitious women need to shift away from letting self doubt hamper progress, and instead speak up for their ideas and find new ways to make their achievements, abilities, and ambitions known.
Ambition in Action: A Latina girl raised in near poverty by a single mother in a housing project in the South Bronx, Supreme Court Justice Sonia Sotomayor followed an uncertain path to what she calls "uncommon achievement." She was realistic about evaluating--and single-minded about building--her skills, but she never allowed her cold-eyed assessments to cloud her aspirations or impede the pursuit of happiness that comes with excelling.
Visionary women leaders are those who set out to change the status quo and inspire effective action in others. Instead of simply accepting the norm, they push forward: honing their ability to imagine a personal vision and convey it to others with confidence. Wangari Maathai, Harriet Tubman, and Margaret Mead, all presented inspiring stories of a safer, fairer, and more sustainable world. This ability to imagine a new reality and inspire others to take action is what distinguishes great leaders from followers.

"The only thing worse than being blind is having sight but no vision" - Helen Keller, author and political activist
Good leadership requires courageous leaders: women who are willing to take bold, strategic risks. While women shouldn't feel pressure to minimize traditionally feminime traits-- such as modesty, prudence, and consideration for others--they shouldn't let these qualities stand in the way of their own advancement. Courageous women will seize potential opportunities with bold self-confidence to reach their leadership goals.
Courage in Action: In late 2007, Sheryl Sandberg, Google's vice president of global online sales and operations, met Facebook founder, Mark Zuckerberg. At the time, Facebook was nowhere near the established corporate power of Google. However, in March 2008, Sandberg moved from her secure and prestigious seat at Google to become the COO of Facebook. In her book, Lean In, Sandberg says "I was not looking for new challenges but simply trying to get through each day. Still… I recognized that if I waited until the timing was exactly right, the opportunity would be gone."
Strong communication--the ability to listen actively, speak persuasively, and establish authority--is an integral skill of successful leadership Throughout history, women's words have moved audiences to action. For example, Sojourner Truth's Ain't I a Woman? helped push the women's and abolitionist agendas towards overlapping action. Although women are known for being attentive listeners, the long-held stereotype that women should be "seen and not heard" has constrained their success as leaders and continues to permeate the workplace. Thus, women's voices need to be both confidently raised and effectively heard in order to substantially advance women's leadership.
Communication in Action: Oprah Winfrey, the medial mogul and talk show activist, uses the power of her voice to enact change today. After studying speech communications and performing arts in college, Winfrey became the youngest news anchor at the Nashville television station. Winfrey later went on to host The Oprah Winfrey Show which would eventually become the highest-rating talk show. Today, Winfrey has expanded her media empire, written six books, and produced multiple films. Her ability to communicate with the world over a multimedia platform has significantly shaped her career and influence.
Successful entrepreneurs bring to the table imaginative thinking, nimbleness and flexibility in the face of challenges and the ability to "pivot or persevere" when the moment calls for it. It is these attributes that are critical for leaders who routinely face change, constraints, or challenging circumstances. Nationally and globally, women are using their keen entrepreneurial spirit to create a flourishing collection of businesses and firms that expand our markets and improve our communities.
Entrepreneurial Spirit in Practice: Reshma Saujani, founder and CEO of Girls Who Code, began her career as an attorney and activist. During her 2010 political campaign as the first Indian American woman to run for U.S. Congress in the Democratic primary election, Reshma visited local schools, seeing the gender gap in computing classes first-hand. Through her campaign experience, Reshma identified a problem and used her entrepreneurial expertise to create a solution. In 2012, Reshma founded Girls Who Code, a nonprofit working to close the gender gap in the tech sector and redefine the image of what a programmer looks like.
Great leaders use leverage to enact effectual change. Finding and using a strong network of sponsors, mentors, and peers is a necessary and critical skill set of leaders. This leveraging of "people power" opens up unseen opportunities and provides greater access to those with organizational influence. Research shows that professionals who leverage their networks successfully are more likely to receive faster promotions and make better decisions while in leadership positions.
Leverage in Practice: Beauty blogger Emily Weiss used failure as leverage for her billion-dollar beauty brand Glossier. When Weiss first sought funding for Glossier, she was met with 11 rejections. Instead of allowing this failure to halt her aspirations, Weiss used the feedback of venture capitalists who had turned down her proposal to hone her pitch. By using this failure as leverage, Weiss gained the attention of venture capitalist Kirsten Green and was able to kickstart her company. Instead of letting the problem halt her goal, Weiss used leverage to focus on the solutions.
Collaboration is both a critical skill of great leaders and an effective attribute in the business world. Businesses that strategically share and pool perspectives, expertise, resources, and strengths grow. Collaboration has long been a central tenet of good female leadership practice. Writing in Forbes, international consulting firm partner Sasha Galbraith notes that "all women entrepreneurs whom I've studied embrace teamwork and depend upon it absolutely to run their organizations." Undoubtedly, the leadership world as a whole has much to gain from adopting women's abilities to work collaboratively and to promote a horizontal and vertical sharing of resources and wisdom.
"Never doubt that a small group of thoughtful committed citizens can change the world. Indeed, it is the only thing that ever has." -Margaret Mead
One of the hidden skills required of masterful leaders is negotiation: using a strategic blend of toughness and diplomacy to guide diverse groups to agreement on complex issues. Women have well-earned a reputation for mastering the critical leadership skill of negotiating, bridging differences and building consensus to achieve goals. The skills women use to negotiate on behalf of others--from brokering deals for their clients to haggling for their children--can be utilized to negotiate for themselves. Developing one's individual "negotiating voice" is key to bringing women closer to a collective success of themselves and broader institutions.
Negotiation in Action: Women are playing an increasingly important role in a range of critical and successful international negotiation efforts; women negotiators are particularly well represented in matters related to nuclear policy. Since 2004, Karin Look has been the U.S. Senior Weapons of Mass Destruction Representative for Libya. Similarly, Rose Gottemoeller was responsible for heading a largely female American team that negotiated the pivotally important 2010 nuclear arms treaty with Russia.
Merriam-Webster's Collegiate Dictionary defines resilience as the "ability to recover from or adjust easily to misfortune or change." Many women leaders have exercised resilience; for example, Hilary Clinton, a politician, diplomat, and lawyer, continues to parlay a string of stressful and potentially defeating life events into a string of even stronger performances. Unfortunately, there is strong evidence that in many professional situations, women are less able or willing to bounce back from an initial failure. Thus, women aiming for leadership positions must continue to develop the ability to learn and bounce back from adversity, developing more self-confidence and refraining from self-blame.

"You may encounter many defeats, but you must not be defeated. In fact, it may be necessary to encounter the defeats, so you can know who you are, what you can rise from, how you can still come out of it." -Maya Angelou
Advocacy for others--the fortitude to take an individual solution and translate it into a collective remedy--is a valuable leadership that reflects what motivates many women to aspire to leadership positions. Effective advocacy on behalf of others is a hallmark accomplishment of some of the greatest women in history--from Susan B. Anthony fearlessly fighting for women's suffrage to Eleanor Roosevelt forcefully addressing the issue of human rights. However, many women hesitate to advocate for their own advancement owing to traditional expectations of femininity. When women break from these traditional roles, they face a bind that male colleagues don't, as their actions are seen as unladylike and inappropriate. Finding ways to navigate this gender bias is essential, and as more women do so, gendered stereotypes will disappear and workplace environments will evolve.
"There is a special place in Hell for women who don't help other women." -Madeleine Albright, first female U.S. Secretary of State