Barnard Startup Summit 2022
Image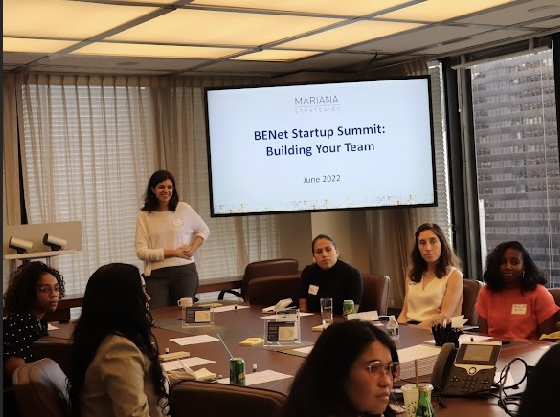 The Barnard Startup Summit, now in its second year, was held on Friday, June 17, 2022, in midtown Manhattan.
Sponsored by the Athena Center and Barnard Entrepreneurs network (BEnet), the Startup Summit is a free, off-campus, in-person opportunity for student and alum entrepreneurs to work with a successful group of Barnard alums in support of their for-profit ventures, followed by a reception for our entrepreneurship community. 
Summit participants learned about:
The legal basics of forming a company

The importance of workplace culture

The truth behind fundraising

The secrets to pitching with confidence
We're proud to have an amazing entrepreneurship community of students, alums, and friends and enjoyed welcoming participants to this exciting networking event! 
Read about Athena's Entrepreneurship Intern, Izzy Lapidus '24's experience below.
* * *

Image

Left to Right: Jennifer Perusini '10; Izzy Lapidus '24
Dispatch from the Second Annual Barnard Startup Summit: Izzy Lapidus '24
My first day working as the Athena Entrepreneurship Intern was May 16th, 2022. The 2nd Annual Startup Summit, co-hosted by the Athena Center and the Barnard Entrepreneurs Network (BEnet), was calendared for Friday, June 17th, 2022. We had just about one month to bring the first ever in-person Summit experience to life. It was going to be a busy next few weeks. 
We started with the basics. By basics, I mean listening to our bold, brillant Athena Director Umbreen Bhatti '00 and the incredible Jennifer Perusini '10, BEnet Chair, describe their ideas for the Summit as I quickly typed notes in my Notion. Our meeting was filled with back and forth brainstorming, tons of excitement, some nerves, and most of all: a deep-rooted commitment to making our vision a reality on the 17th. Within the first two hours of being in the office, I could already see how this year's Summit would be different—last year's was a 3-day virtual experience focused on training emerging entrepreneurs. This year, the law firm Fried, Frank, Harris, Shriver & Jacobson had generously donated space in the Seagram Building, which meant we could build an entirely new and exciting in person experience to serve entrepreneurs at all stages of their journey. 
The next few weeks were as expected: intense! I probably sent out over 500 emails to members of the Barnard community, from those who were already working on world-shaking ventures to those just beginning to probe their entrepreneurial minds. (Did we miss you? If so, email Athena at athenacenter@barnard.edu so that you can be included in future gatherings!)
Before I knew it, the morning of June 17th was upon us. I met Athena Intern Bridget Hughes '24 (who would also serve as our photographer for the day) at our conference room in the Seagram Building. The room was stunning, more professional and beautiful than I ever could've imagined. And the view! 36 floors up has a special way of making someone feel important. 
At 12:59, our first attendees began to trickle in. I quickly handed them a nametag and colorful pen (classic me) and welcomed them. After weeks of updating spreadsheets, arranging zoom calls, designing marketing materials, and following up on emails, the Summit was finally starting. 
Our first session of the day was led by Sabah Ashraf '96 and Lili Cohen '19, who shared, for the first time, the behind-the-scenes story of how their company House of Kajaana came to be what it is today. Sabah shared a bit about her long, impressive career in building products for world-renowned brands and why she made the decision to found her own plant-based Indian food company. We learned about how they built their pitch deck, and witnessed the magic that happens when two Barnard alums come together. Chatting with Sabah and Lili was an absolute dream, and we're so lucky to have them in our Barnard entrepreneurial ecosystem. 
Next up, Fenwick & West attorney and past Summit speaker Yashreeka Huq led a session titled: Company Formation 101: The Basics. I was scribbling down notes in my palm-sized Athena Center notebook just as much as the next attendee! Yasheeka gave us a run-down of the ten most important law-related things to know when starting a company, covering entity formation, IP, protecting your assets, and getting your startup off the ground. Attendees got access to the incredible slides Yashreeka shared with us, and I'm positive they'll be of great use as attendees continue to bring their entrepreneurial dreams to life.
I'm probably not supposed to pick favorites, but the session Audrey Roofeh '00 led, Building a Better Business, was a highlight of the day. During this session, we really got to know each other as we went around the room sharing a little bit about ourselves and what entrepreneurial endeavor(s) brought us to the Summit. Audrey asked us questions about our experiences in our workplaces and we got to imagine, together, the future of what a truly inclusive, supportive workplace environment looks like. I'll definitely be staying in touch with Audrey!
After Audrey's inspiring session, Sabah and Lili rejoined us, along with Jennifer and attorney Inna Jackson '99, for our Demystifying Fundraising panel. I moderated this panel, which at first seemed silly and a little scary to me since I knew nothing about fundraising, but in fact, my lack of experience with fundraising made me the perfect person to ask questions! I asked panelists about what red flags in potential investors were, how to determine equity stakes, how to know when it's time to start fundraising, when to hire employees, and more.
After an inspiring day of collective learning, it was time for our attendees to put their knowledge into action. Deepti Sharma, Athena's Entrepreneur-in-Residence, shared her tips and tricks for delivering the best possible elevator pitch (surprise: confidence is key!) and then divided attendees into small groups to practice their pitches. Right before breaking for our reception, I asked attendees if anyone felt comfortable doing their elevator pitch in front of the room. The crowd cheered as a brave attendee stood and delivered her pitch to the rest of the room (with confidence). It was the perfect way to kick off our reception.
As so many impressive Barnard alumnae and supporters of the College began to show up, I thought about how proud I felt to call myself a member of this community. A personal reception highlight for me was getting to speak to Francine Glick '77, who attended Barnard long before computer science was offered as a major. That was no problem for Francine, however, who petitioned Barnard to take her computer science classes at Columbia and was one of the very first Barnard students to graduate with a computer science degree. As someone who also created her own path to study computer science, it was an honor to meet Francine and learn about her experiences. 
And that's a wrap! Our 2nd Barnard Startup Summit was an incredible success. Thank you to Umbreen, Jennifer, the whole Athena Center team, Ernesto, Laura and the rest of Fried Frank's staff who made sure our event went smoothly, all of our attendees and speakers, and to everyone else who bet on this event happening, and therefore bet on me! It was a privilege to work with all of you and I'm so grateful for the opportunity to be involved with the center that made me want to apply to Barnard in the first place. Until next year!