Financial Fluency = Financial Freedom.
Understand money and how it works and you'll have the ability to make strategic decisions that can impact both your future and your ability to effect change in the world. These are crucial skills for any leader. The best part? You don't have to leave campus to do it. We have a variety of programs for all levels of knowledge that will give you tools, tips and guidance you can use to start building a stronger foundation for the future today.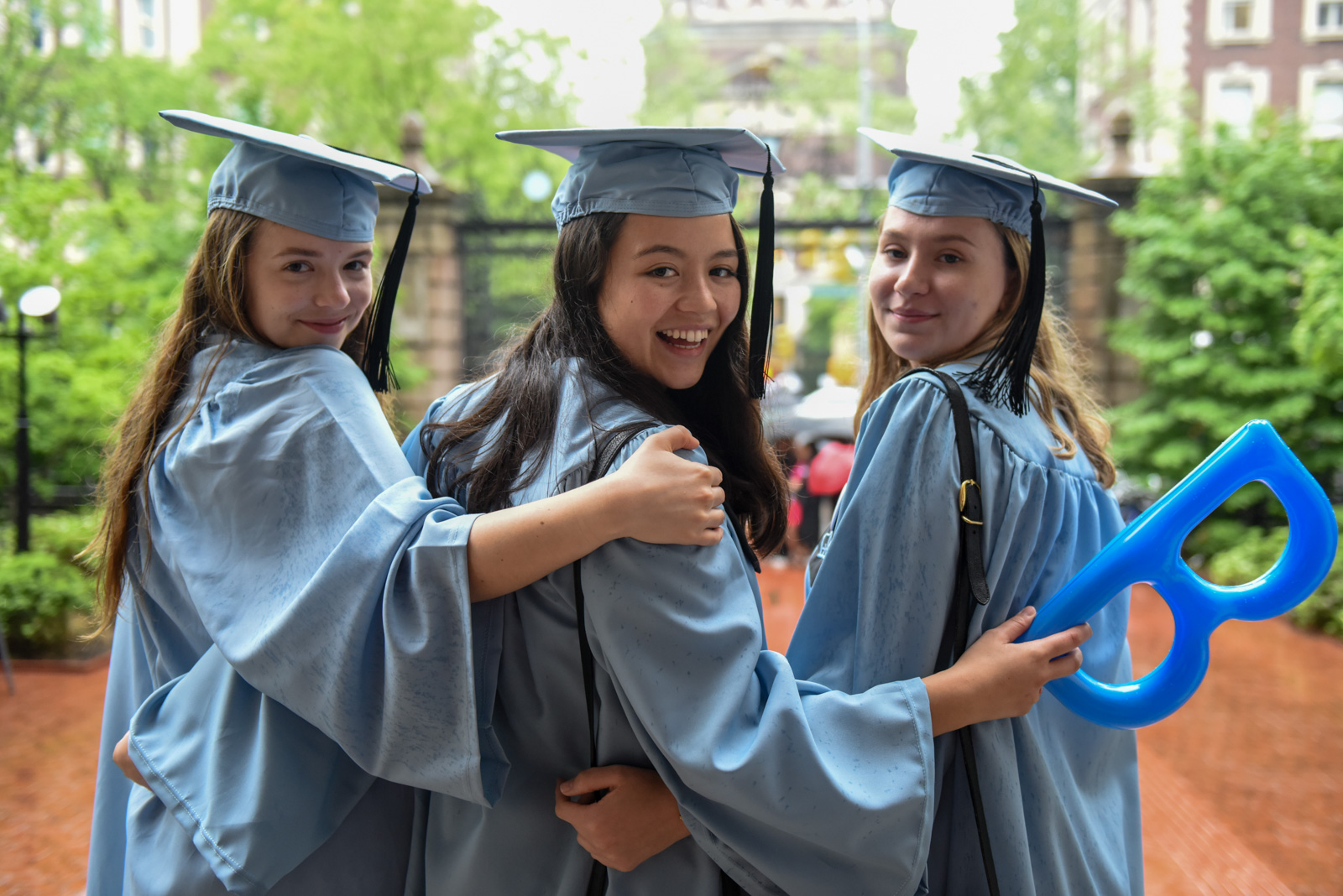 Programs offered in partnership with Beyond Barnard, Office of Financial Aid, and the Assistant Dean for Student Success who works with first-generation and low-income students. 
---
Financial Fluency for Seniors. Friday, February 21, 2020, 2pm-4pm. Getting ready for life after Barnard? Don't neglect your financial health. Hear from a money management expert and recent alumnae who have valuable tips about real-world finances, and stay for roundtable discussions in which you can ask questions about credit cards, apartment rental processes, budgeting, and the salary/benefits negotiation process. Refreshments will be served. 
Guest Speaker: Jacquette M. Timmons focuses on the human side of money. She works as a financial behaviorist and is committed to getting you to see that you don't manage money - you manage your choices around money. In addition to being an author ("Financial Intimacy: How to Create a Healthy Relationship with Your Money and Your Mate") and frequent blogger, Jacquette is also the creator of The Comfort Circle™ - a dinner series, where she hosts discussions about money, business and life over food and wine - and "In the Zone: How to Price Your Genius" - a 1-day small group retreat about how to price your genius and become confident in what you charge. She is also the host of the podcast, "More Than Money." When she's not providing behavioral-based financial coaching, she's traveling the country for speaking engagements on behalf of Fortune 100, AM Law 200 companies, nationally known non-profits and conferences (large & boutique) to talk about the intersection of emotions and money. Her work has been featured on Minnesota Public Radio, SiriusXM, "Good Morning America," Oprah.com, CNN, HLN, FOX, Black Enterprise, NPR, Reuters.com, and The Wall Street Journal. Jacquette holds an MBA in finance from Fordham University's Graduate School of Business and an undergrad in marketing from the Fashion Institute of Technology. 
For more information contact sabramow@barnard.edu.
My Money, My Plan: Achieving Financial Goals Through Saving. Tuesday, March 3, 2020, 5:30pm-7pm. A Women on the Move financial fluency workshop, sponsored by JP Morgan Chase & Co. and organized by the Barnard Financial Fluency Committee. This is the second in a series of four events spanning 2019-2021. Savings are the fuel for you financial journey, and a powerful way to insure you have options as you make key life and career decisions. The financial routines you establish in college can set you up for a lifetime of success. Attend this workshop to learn how to start making savings a life-long habit. 
For this and other events, Barnard is excited to be partnering with Women on the Move -- an initiative led by JP Morgan Chase & Co to improve financial health and career growth for women. We hope you'll join us and get started on your financial journey. Dinner will be served and financial planning journals provided.  Presenter: Maria Pollina, Executive Director, Consumer Bank Financial Health at Chase. Questions? Please email beyondbarnard@barnard.edu. 
Wall Street? Who cares. (You do.): A Field Trip to the Financial Times. Friday, March 27, 2020, 11am-1pm (+travel time). Markets, stocks, hedge funds... even if you don't think you care about all that, trust us, you do, because Wall Street isn't just a place, it's a powerful force in our economy and our lives. We will head over to the Financial Times Offices to meet with financial journalist and alumna, Rana Foroohar '92 to see where financial news gets made and learn how it impacts all of us. The visit includes a tour of the newsroom and discussion with Rana and other colleagues. 
Workshop Instructor: Rana Foroohar '92 is a global business columnist and associate editor for the Financial Times. She is also CNN's global economic analyst. Her new book, "Don't Be Evil: How Big Tech Betrayed Its Founding Principles – and All of Us," was released by Crown in November 2019. Her previous book, "Makers and Takers: How Wall Street Destroyed Main Street," was shortlisted for the FT/McKinsey Business Book of the Year award in 2016. Foroohar was named best large publication columnist of 2019 by the Society of American Business Editors and Writers for her technology and policy writing. She is also the 2019 winner of the Arthur Ross Award given by the American Academy of Diplomacy for foreign affairs writing. Previously, Foroohar was the assistant managing editor in charge of business and economics at Time, as well as the magazine's economic columnist. She also spent 13 years at Newsweek, as an economic and foreign affairs editor and a foreign correspondent covering Europe and the Middle East. She lives in Brooklyn with her husband, the writer John Sedgwick, and her two children.
Additional Information: This program is free and open to all Barnard students. Please allow extra time for travel. Meeting time and location will be sent via email upon registration. Cancellations must be made before March 23rd as we are required to submit a list of guests to the host organization. Questions? Contact sabramow@barnard.edu.
Investing for Beginners. Tuesday, March 31, 2020, 5pm-6:30pm. So you worked all summer and have some extra cash on hand? Or maybe you're curious about investing apps? College can be a difficult time to scrounge up the extra change just to do the things you want to do. Even if you don't have any money saved, you can start investing now. We normally think of investing as reserved for the wealthy but it doesn't have to be that way! No matter your career choice or major, we need investing for long term goals such as graduate school, buying a home and retirement. This workshop will take the intimidation out of investing and cover key points such as mutual funds, stocks, picking the right mix of investments and how to get started right away.  
Workshop Instructor: Galia Gichon is an independent personal financial expert with more than 20 years in financial services, including nearly 10 years on Wall Street and an MBA in Finance. Her career has spanned corporate bond research analyst, personal finance expert, angel investor, entrepreneur advisor, and author. As an angel investor, she has worked with Next Wave Impact, Pipeline Angels, Astia, Refinery CT and Portfolia- actively supporting women-led and impact startups. She is also the Founder of Down to Earth Finance, independent personal finance education. She has been teaching at Barnard College's Athena Center for Leadership and Freelancers Union for 10+ years. She has been widely quoted in The New York Times, NBC, CNN, and more. Previously, she worked at Bear Stearns and Nomura Securities. Galia is also the author of "My Money Matters" which was featured on TODAY SHOW. She can be reached at galia@downtoearthfinance.com and @SimplyMoney.
If you are an Athena Scholar, any of these workshops can count towards your program requirement.
Create Your Own Budget Level 1
Create Your Own Budget Level 2
---
A large part of financial fluency is finding simple ways to keep track of your cash flow. These small group, hands-on sessions teaches students not only how to track their income and expenses but also chart goals and use visuals to help better understand their financial profile.Topics covered include conditional formatting, data validation, conditional statements, and adaptive charts.

Financial Fluency for Freelancers
---
Whether it's a side hustle, a temp position or a full time contract, understanding how to manage your money outside of a typical employment structure is crucial. In this session, you'll learn how to be your own advocate, create a budget on variable income, create income as a freelancer, set aside money for taxes, plus - the latest apps to streamline your life.

Financial Fluency Doesn't Start in Your Wallet
---
Does your spending match your core values? How do your emotions impact the choices you make with your money? Come learn how they're connected and leave with advice, inspiration and tools to empower you to answer the question, "What should I do with my money?"