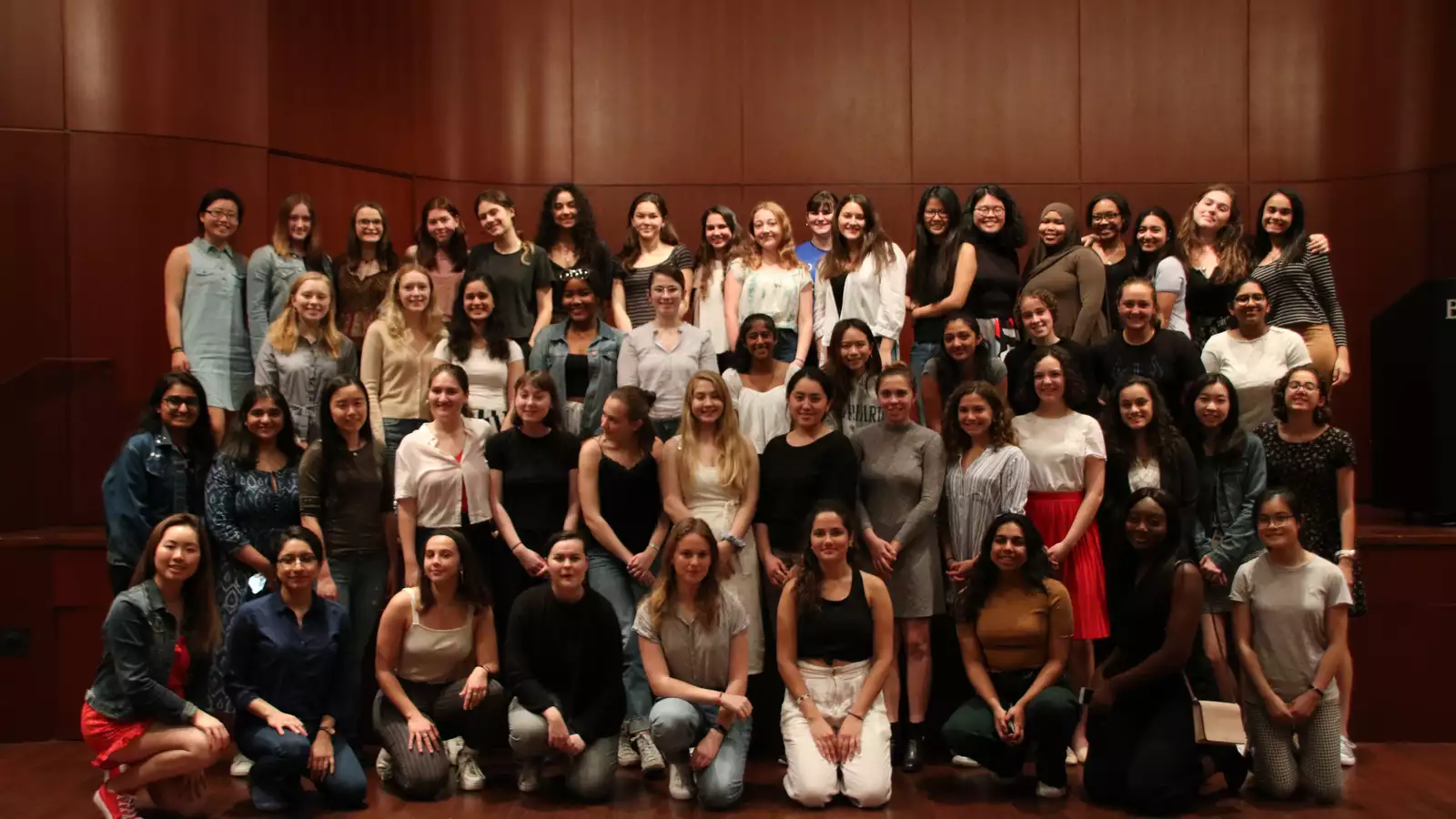 The Athena Scholars Program develops leaders who are visionary, courageous, resilient, bold and innovative — they are Barnard students determined to make the world a better place.
In the 10 years since we launched the Athena Center, we've graduated over 360 trailblazers from the Athena Scholars Program. Our Scholars have made a difference in all aspects of our world from what we eat, to educating our youth, to influencing how and what we learn, reshaping our political and social structures and our healthcare systems, and how we interface with the digital world, to name a few.
We're incredibly proud of this program and all that our Scholar graduates have accomplished.
And yet in the past decade the world has changed, and what today's students want and need from a leadership center has as well. In response to this changing landscape and student body, we've shifted from a signature, curricular program that starts in a student's third year and focuses on individual development to a fully experiential set of offerings, available from day one and emphasizing collaboration and the power of collective action to tackle our world's many complex challenges. Our last class of Scholars will graduate in spring 2022. 
Click here to learn about our take on the leaders we need today, and click here to learn more about what we offer to help them grow.
Scholar Program Requirements
Frequently Asked Questions
Q: When can I take Women and Leadership?
A: Recommended for sophomores and juniors. Be mindful that space is limited and preference is given to juniors and seniors who need to fulfill the requirement, but we urge students to try and take it as early as possible. You must take at least one elective prior to taking Women and Leadership.
Q: Can I study abroad and still fulfill my program requirements?
A: Yes, you can study abroad, although it might require some extra planning. If you are worried about studying abroad and being an Athena Scholar, contact Sarit Abramowicz (sabramow@barnard.edu).
Q: When am I supposed to submit the course reflections?
A: You must submit the course reflection at the end of the semester of when the class was taken. Fall course reflections are due by January 10th. Spring course reflections are due by June 10th. Late submissions will not be accepted. The Course Reflection Form is circulated at the end of each semester.
Q: Where can I find the list of pre-approved electives?
A: The list of approved electives is available under the Athena Center for Leadership Studies tab on the Barnard Course Catalogue.
Q: How do I get a non-approved elective to count?
A: To fulfill one elective requirement, students may identify a non-approved course that fulfills the outlined learning objectives and petition the Director of Student Programs for approval using the appropriate form. You have two options for requesting approval for a course not listed on the Athena Approved Electives list. If you would like to request approval for a non-approved elective prior to taking the course, please submit the Elective Approval Request Form within the first two weeks of the semester. Otherwise, please submit the Special Dispensation Form after completing the course, no later than January 10th for the Fall Semester and June 10th for the Spring. There is no guarantee the course will be approved in either case.
Q: I took a pre-approved elective before I joined the Scholars Program. Does it still count towards my elective requirement?
A: If you have already taken a pre-approved course that you would like to count as one of your electives, email Sarit Abramowicz (sabramow@barnard.edu) to fill out the elective reflection as soon as you join the program. If you took a class before joining the program and you want to apply for special dispensation, email Sarit as soon as you join to fill out the special dispensation form.
Q: Can courses fulfilling general education requirements and/or for my major also count toward my Athena elective requirements?
A: Yes, as long as the elective was preapproved, it will count. You can also apply for special dispensation for courses that also fulfill gen. ed/major requirements.
Q: Can I Pass/D/Fail an Athena elective course?
A: No. Scholars cannot Pass/D/Fail an elective and must receive a letter grade of C or better in the course to count toward your requirements.
Q: What can I count towards my practicum requirement?
A: Most scholars use internships to complete their practicum. However, practicums can also be completed through lab research and shadowing. The purpose of a practicum is a pre-professional experience to observe different leadership styles, gain transferable skills and implement what you have learned in the Scholar program in a professional environment. It should be related to your career goals and must be at least 12-15 hrs a week during the fall/spring semester and 35-40 hrs a week in the summer. If you have any concerns if your internship/research/program will fulfill the practicum requirements, contact Sarit Abramowicz (sabramow@barnard.edu).
Q: I already did an internship, can it still count for my practicum requirement?
A: No. The practicum is a program where you do an internship while participating in an online discussion group via Canvas. This is what is required to participate in the practicum:
completed two leadership lab workshops
have an internship related to your career goals
the internship must be 12-15hrs/week during the fall/spring semester and 35-40hrs/week in the summer
participate in the 10 weekly challenges posted in Canvas. You must complete the 10 weekly practicum reflective assessment program (posted in Canvas) in order to fulfill your practicum requirement.
Information on how to sign-up for the practicum is sent to scholars at the beginning of each semester.
Q: Is there a required timeline for completing the Practicum?
A: Yes, the practicum must be completed by summer before senior year. It needs to be completed before enrolling in Senior Seminar.
Q: I took a Skill Builder (formerly Leadership Labs) prior to joining the Athena Scholars Program. Does that count toward my Athena Scholar requirements?
A: Yes. You must submit the program names and dates (preferably on your scholar contract) to make them count. And remember, you need to complete a total of six workshops for the Athena Scholars Program. (*Students who joined the Scholars program prior to Fall 2017 only need to complete 3 Skill Building workshops). For workshop selection, see Athena Skill Builders (formerly Leadership Labs).