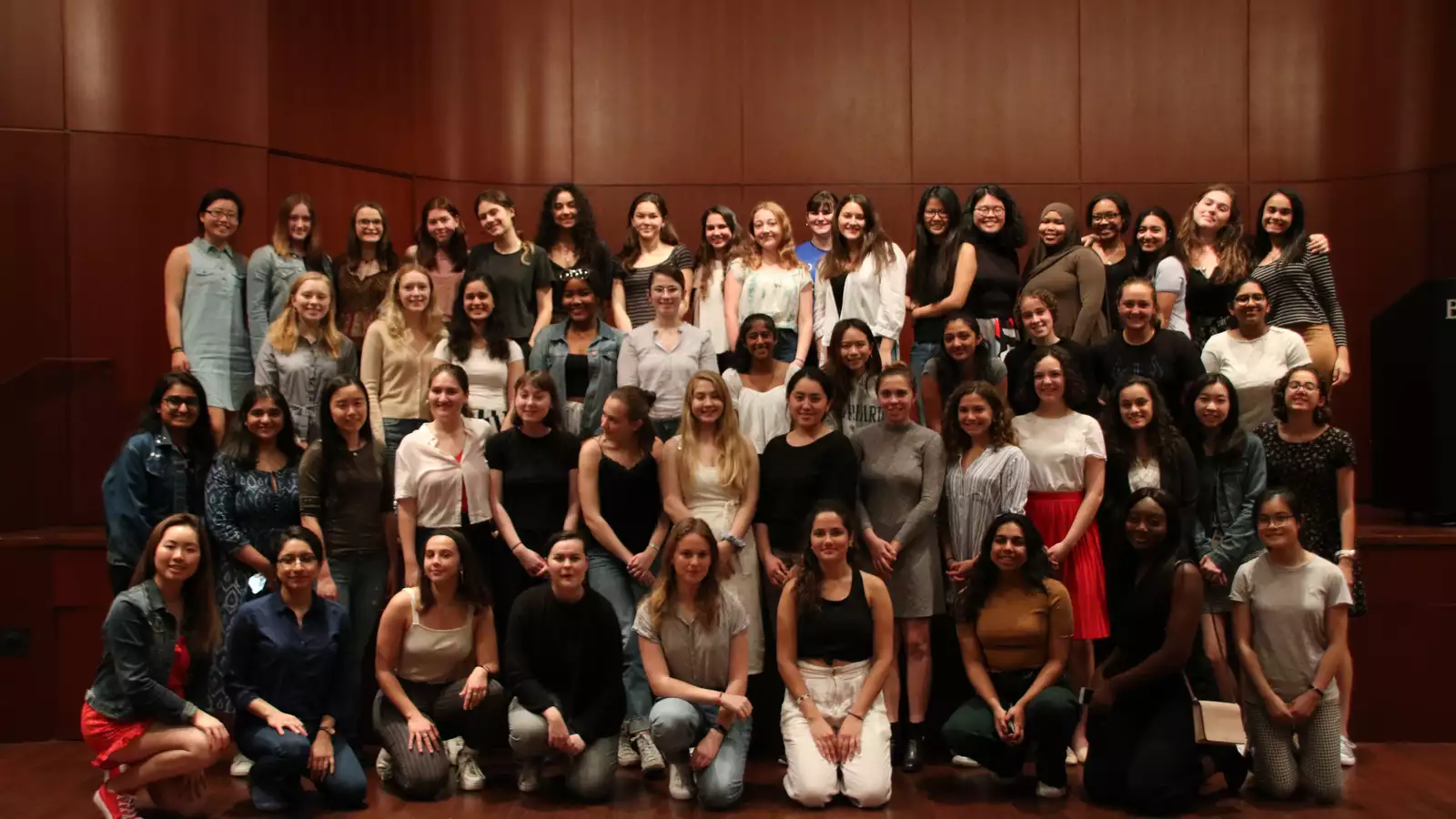 The Athena Scholars Program develops leaders who are visionary, courageous, resilient, bold and innovative — they are Barnard women determined to make the world a better place.
Scholar Program Requirements
Important Dates and Events
Athena Summer Fellowship Info Table: Learn about the program from Athena's 2019 Summer Fellows

December 4, 12-2pm, Diana Center, Table 2, Entry Lobby
WHAT'S ON YOUR BANNER? A design thinking workshop to help you build your solution to the exclusion of underrepresented identities in historical narratives. Lunch is provided, and space is limited, so register now! REGISTER HERE (open to Barnard & Columbia students only)

Friday, December 6, 11am-1pm, at The Columbia Design Studio, 645 West 120th Street, New York, NY 10027
Athena Digital Design Agency (ADDA) Info session & Graduation. Open to All Barnard Students

Friday, December 6, 5-6:30pm, Diana Center, Event Oval. Please RSVP HERE
Frequently Asked Questions
Q: Am I eligible?
A: All Barnard students currently enrolled are eligible to join the program in the Fall of their sophomore year. Junior transfer students must contact Sarit Abramowicz (sabramow@barnard.edu) by the first week of their junior year.
Q: What are the benefits of being an Athena Scholar?
A: Beyond the academic and communication skill components of the Program, students can participate in mentorship opportunities, summer fellowships and Center internships, to name a few! You also join a fantastic community of like-minded women – who want to lead both personally and professionally, and want to make a positive impact in the world.
Q: How do I join?
A: For the 19-20 academic year, please contact Sarit Abramowicz (sabramow@barnard.edu) for more information on how to join the program.
Q: Is the Athena Scholars Program a minor?
A: No. It is a co-curricular and experiential learning program, which includes five courses, six leadership labs and a practicum. When you complete the program, it will be noted on your final transcript.
Q: How do I know if the Scholars program is right for me?
A: There are several ways to engage and participate in the Athena Scholars Program, and we encourage students from all majors and interests to join. That said, the requirements are time consuming and should not be treated lightly. The purpose of the information session is to figure out if the program is right for your schedule and if it makes sense in your larger collegiate goals while at Barnard. If you have more questions after attending an information session, you can contact The Student Advisory Board at athenastudentadvisoryboard@gmail.com.
Q: Can I do the program and study abroad?
A: Yes, many of our Scholars go on semester and yearlong study abroad programs. However, it does take some extra planning to stay on track. If you have concerns, please discuss them with a member of the Student Advisory Board at your information session or contact Sarit Abramowicz (sabramow@barnard.edu)
Q: Can I take Women and Leadership if I'm not an Athena scholar? What about the leadership labs?
A: Priority for Women and Leadership is given to those in the Athena Scholars Program. If there are seats available, priority is given to students in class order. First years are not eligible to take the class. Leadership labs are open to all Barnard students, regardless of class year or affiliation with the Athena Scholar Program.
Q: Can I go to the PLEN seminar in Washington D.C. if I am not an Athena Scholar?
A: PLEN Seminars are open to all undergraduate students. Athena Scholars are eligible for scholarships to cover registration and seminar fees.
Q: What is the make up of the Athena Scholar student body?
A: Athena Scholars represent about 25 different majors, with the majority of students in either a social science or humanities discipline. Our students hold a wide variety of leadership positions on campus as class officers, elected leaders in student government, resident advisors and in a multitude of student organizations at Barnard and Columbia. Currently over 40% of Scholars identify as students of color or international students.
Q: When can I take Women and Leadership?
A: Recommended for sophomores and juniors. Be mindful that space is limited and preference is given to juniors and seniors who need to fulfill the requirement, but we urge students to try and take it as early as possible. You must take at least one elective prior to taking Women and Leadership.
Q: Can I study abroad and still fulfill my program requirements?
A: Yes, you can study abroad, although it might require some extra planning. If you are worried about studying abroad and being an Athena Scholar, contact Sarit Abramowicz (sabramow@barnard.edu).
Q: When am I supposed to submit the course reflections?
A: You must submit the course reflection at the end of the semester of when the class was taken. Fall course reflections are due by January 10th. Spring course reflections are due by June 10th. Late submissions will not be accepted. The course reflection form is circulated at the end of each semester.
Q: Where can I find the list of pre-approved electives?
A: The list of approved electives is available under the Athena Center for Leadership Studies tab on the Barnard Course Catalogue.
Q: How do I get a non-approved elective to count?
A: To fulfill one elective requirement, students may identify a non-approved course that fulfills the outlined learning objectives and petition the Director of Student Programs for approval using the appropriate form. You have two options for requesting approval for a course not listed on the Athena Approved Electives list. If you would like to request approval for a non-approved elective prior to taking the course, please submit the Elective Approval Request Form within the first two weeks of the semester. Otherwise, please submit the Special Dispensation Form after completing the course, no later than January 10th for the Fall Semester and June 10th for the Spring. There is no guarantee the course will be approved in either case.
Q: I took a pre-approved elective before I joined the Scholars Program. Does it still count towards my elective requirement?
A: If you have already taken a pre-approved course that you would like to count as one of your electives, email Sarit Abramowicz (sabramow@barnard.edu) to fill out the elective reflection as soon as you join the program. If you took a class before joining the program and you want to apply for special dispensation, email Sarit as soon as you join to fill out the special dispensation form.
Q: Can courses fulfilling general education requirements and/or for my major also count toward my Athena elective requirements?
A: Yes, as long as the elective was preapproved, it will count. You can also apply for special dispensation for courses that also fulfill gen. eds/major requirements.
Q: Can I Pass/D/Fail an Athena elective course?
A: No. Scholars cannot Pass/D/Fail an elective and must receive a letter grade of C or better in the course to count toward your requirements.
Q: What can I count towards my practicum requirement?
A: Most scholars use internships to complete their practicum. However, practicums can also be completed through lab research and shadowing. The purpose of a practicum is a pre-professional experience to observe different leadership styles, gain transferable skills and implement what you have learned in the Scholar program in a professional environment. It should be related to your career goals and must be at least 12-15 hrs a week during the fall/spring semester and 35-40 hrs a week in the summer. If you have any concerns if your internship/research/program will fulfill the practicum requirements, contact Sarit Abramowicz (sabramow@barnard.edu).
Q: I already did an internship, can it still count for my practicum requirement?
A: No. The practicum is a program where you do an internship while participating in an online discussion group via Canvas. This is what is required to participate in the practicum:
completed two leadership lab workshops
have an internship related to your career goals
the internship must be 12-15hrs/week during the fall/spring semester and 35-40hrs/week in the summer
participate in the 10 weekly challenges posted in Canvas. You must complete the 10 weekly practicum reflective assessment program (posted in Canvas) in order to fulfill your practicum requirement.
Information on how to sign-up for the practicum is sent to scholars at the beginning of each semester.
Q: Is there a required timeline for completing the Practicum?
A: Yes, the practicum must be completed by summer before senior year. It needs to be completed before enrolling in Senior Seminar.
Q: I took a Skill Building workshop (formerly Leadership Labs) prior to joining the Athena Scholars Program. Does that count toward my Athena Scholar requirements?
A: Yes. You must submit the program names and dates (preferably on your scholar contract) to make them count. And remember, you need to complete a total of six workshops for the Athena Scholars Program. (*Students who joined the Scholars program prior to Fall 2017 only need to complete 3 Skill Building workshops). For workshop selection, see Athena Skill Builders (formerly Leadership Labs).