Image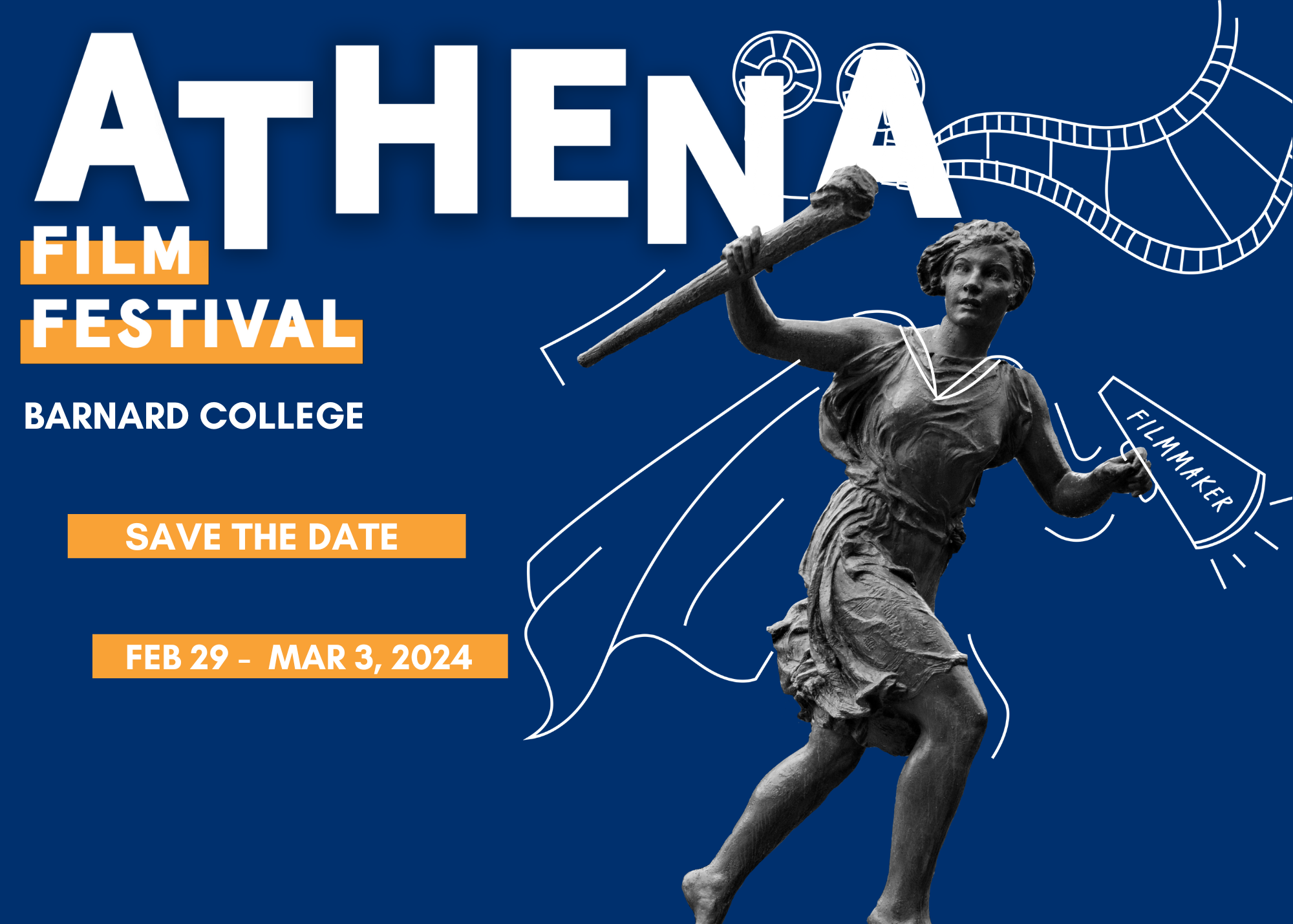 Save the date for next year's Athena Film Festival, happening February 29 - March 3, 2024!
When was the last time you felt seen — truly seen — on screen? When was the last time you connected with a story in a film?
For 13 years, the Athena Film Festival at Barnard College in New York City has been a site of visibility and possibility, power and abundance for women of all backgrounds and experiences.
We're changing what the entertainment industry looks like, and we're inspiring storytellers — and audiences — to challenge tired and troubling narratives about women's leadership in the process.
Today, the Athena Film Festival is where audiences find original, thought-provoking, compelling, and diverse stories of women leading change in underexplored ways — and where the creatives who are telling these stories find community.
The Festival is a joint project of the Athena Center for Leadership at Barnard College, led by Umbreen Bhatti, and Women and Hollywood, led by Melissa Silverstein. The Festival's founding sponsor is the Artemis Rising Foundation and its CEO, Regina K. Scully.
Film Festival FAQs
There are lots of ways to get involved as a student!
If you are a Barnard student, consider signing up to volunteer, applying for a student crew position, or purchasing a student pass. All of these opportunities will become available in January 2024.
If you are a senior at Barnard or Columbia, please also consider applying for the Athena Post-Baccalaureate Fellowship. We hire one post-bac Fellow each year to support the programming and operations of the festival. Applications open for that in late spring. Keep an eye on the festival's Instagram and the Barnard job board.
The Athena Film Festival is only possible due to the dedicated and generous support from a network of sponsors, supporters and friends. These individuals and organizations dedicate their money, time, and in-kind goods and services to Athena to help bring our festival to life each year.
Sponsorship levels begin at just $5,000 and the Patron Pass (which helps underwrite the cost of one filmmakers' attendance at the festival) is just $1,500.
If you are interested in learning more about how to support the festival, please send an email to athenafilmfestival@gmail.com and a member of our team will get back to you.
Meet our Festival Co-Founders
In addition to her role with the Athena Film Festival, Silverstein is the founder and editor of Women and Hollywood, one of the most respected sites for issues related to women and film as well as other areas of pop culture. Silverstein recently published her first book, In Her Voice: Women Directors Talk Directing, which is a compilation of over 40 interviews that have appeared on Women and Hollywood. Her work has been featured on CNN and BBC as well as in Newsweek, Salon, Chicago Tribune, Washington Post, The New York Times, and many other publications.
Silverstein has conducted social media marketing campaigns and events for a variety of films including My Week With Marilyn, The Iron Lady, Gloria Steinem: In Her Own Words, Dancing Across Borders, and more. Formerly the founding project director for The White House Project and the Chief of Staff at the Ms. Foundation for Women, Silverstein also has worked on several high profile public education campaigns including Take Our Daughters to Work Day and the Pro-Choice Public Education Project. She is on the advisory boards of the Women's Media Center and Women, Action & Media (WAM!) and is a member of NY Women in Film and TV.
Kathryn Kolbert is a Co-Founder of the Athena Film Festival and served as the Founding Director of the Athena Center from 2009 - 2018. A public-interest attorney, journalist, and executive in the not-for-profit world, Kathryn has a depth of experience in collaborative leadership, educational programming, and civil-rights advocacy. She has been recognized by The National Law Journal as one of the "100 Most Influential Lawyers in America," and by The American Lawyer as one of 45 public-interest lawyers "whose vision and commitment are changing lives." In 1992, Kolbert argued the landmark case of Planned Parenthood v. Casey before the U.S. Supreme Court and has been credited with saving Roe v. Wade with what CNN's Legal Correspondent Jeffrey Toobin has called "one of the most audacious litigation strategies in Supreme Court history."
Before joining Barnard, Kolbert was the President and CEO of People For the American Way and People For the American Way Foundation, two of the nation's premier civil rights organizations. During her tenure, People For the American Way's Political Action Committee was cited by the National Journal as the most successful advocacy group of the 2008 election cycle.
For ten years, Kolbert oversaw a program on law and American life at the University of Pennsylvania's Annenberg Public Policy Center. She was the executive producer of Justice Talking, an award-winning public radio program distributed by NPR, and also directed an educational website called JusticeLearning.org, which received a Webby Award in 2005. Before she became a journalist, Kathryn enjoyed a long and distinguished career as a public-interest attorney specializing in women's reproductive rights. From 1992 to 1997, she directed domestic litigation and public policy programs for the Center for Reproductive Rights, where she was a co-founder and vice president. She has also served as the State Coordinating Counsel of the ACLU's Reproductive Freedom Project in New York and as a Staff Attorney with the Women's Law Project and Community Legal Services in Philadelphia. A graduate of Cornell University, College of Arts and Science and Temple University School of Law, Kolbert has lectured at colleges and universities across the nation and is a frequent commentator on leadership, constitutional and women's rights issues in the national media.